This is part 10 of an 11 part series. For the introductory post to set the tone, please see Holy shit things are super bad.
Before we get on to today's scheduled blog post, I think I probably should say something about the recent blockbuster news that Manchin and Schumer secretely hit an agreement with the Inflation Reduction Act which will have a massive budget for climate mitigation. On the one hand, the bill has lots of great stuff in it! On the other hand, it ties oil and gas growth to renewable growth.
I guess my feelings are best summed up by this tweet: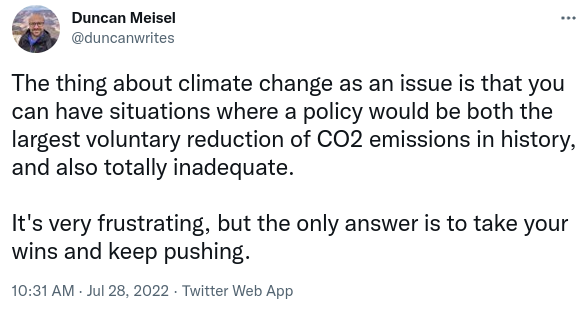 Get everyone you know to vote for politicians with a track record of caring for the climate, especially in Senate races this election. I wish this wasn't partisan, but currently that excludes Republicans! Maybe we can have enough votes in the senate to stop caring about Manchin and omnicidal Republicans. If we have to get a vote past Joe Manchin and every Republican, I suppose this bill is pretty great!
Anyway, let's go back to the regularly scheduled content.
So, we moved!
I've lived in Utah my whole life. It's home to me. The mountains are incredible. I may not be Mormon, but I tell you what, when I was growing up you could get the ski resorts to yourself on Sunday. My high school would bus us up to the "greatest snow on Earth" twice a week for skiing in the winter and I got an annual season pass for $150 or something, which is now less than a daily pass. I left Utah for college and work for a while, but I always came back.
That "greatest snow on Earth" that Utah advertises is at least in part due to lake-effect snow from a huge lake that is rapidly drying up.
Originally, my plan for this post was to go into all of the ecological disasters facing Utah, but early last month, the New York Times did it for me. In a widely shared article, the NYT brought to national attention something I've been worried about for a few years now - what happens when the lake is gone? Then a few weeks later, John Oliver did the same thing.
So instead of spending a ton of time on it, here's my summary of Utah's situation:
The lake is drying up. It's drying up in part due to water diversion for alfalfa farming, but it's also drying up for the same reason the Colorado river is drying up: a massive megadrought throughout the entire American Southwest. Some towns in Utah have already halted development due to water deficits.
The lake doesn't drain to the ocean. All of the heavy metals and debris it picks up from the mountains on the way down are still there in the lake. That's why the lake is so salty. When the lakebed is dry, there will be huge arsenic dust storms. This is already happening.
A lot of Utah's water is surface water. In Salt Lake City, 90% of drinking water comes from melting snowpack. This is stored in mountain reservoirs, and for a year to have enough water for everyone, the water needs to make it to the reservoirs. Most of the water in the reservoirs is from snow and not rain, and this is because in the spring, all of the snow melts at the same time, saturating the ground and air, and thus has a greater chance of making it to the reservoir instead of being dragged into the sand or the dry air. Warm winters exacerbate drought conditions and water restrictions because snow melt is more spread out over time and has more evaporative losses, even if it was technically a wetter winter.
Climate models predict more precipitation in Utah, but they also predict far less, perhaps zero, snow. That's bad for annual surface water totals in a desert. Unless something is done immediately and urgently, Utah is likely to turn into a lakeless, snowless, arid, arsenic dust bowl.
Utah is not really doing enough about it. Utah's governor was panned on Last Week Tonight for asking for prayers for rain. We clearly do need divine intervention, but if that's all that remains of a plan, it's time to go.
In addition to Utah's water woes, Salt Lake City in particular is nestled in the mountains making a big, pollution filled bowl. In the winter, warm air gets trapped in the city in an inversion, causing Salt Lake City to regularly have the worst air quality in the nation. And if that's not bad enough, each summer, California's growing wildfire season dumps a blanket of thick wildfire smoke on the communities of the Wasatch mountain range for months. California isn't running out of trees soon.
I realized if my kid lives as long as some of my grandparents, he could live as long as the year 2112, if the world can survive that long. If that doesn't change your perspective, what could?
So after a lot of thinking (please see parts 1 through 9 but especially part 9), we decided to move! I work remotely, so, why not? I made an early version of my climate models, made a spreadsheet, and we drove to the top few places on the spreadsheet. We drove as far as Vermont (which was lovely but just too far). Ultimately, we were blown away by Traverse City, Michigan, and so that is where we are now!
Traverse City ranked high on our list for a number of reasons:
It looked extremely good on the climate front. Lake Michigan should really be referred to as an inland sea, and in the climate models at least Lake Michigan does an extremely excellent job of moderating the weather near its coast all year round.
Lake Michigan is also fresh and reasonably clean water; some cities get their drinking water from the lake. What a contrast from Utah!
Because of the moderate weather, it's not what you'd picture when you think of the north Midwest: Traverse City's surroundings are full of vineyards and beaches.
It is a micropolitan region hub, so even though it is a small city surrounded by farms, it has a great hospital, an airport with commercial air travel if we ever needed it, and many specialist shops and services.
The surrounding area has a high degree of crop diversity. We aren't surrounded by soybean factory farms only. Small family farms are producing all kinds of different things. The USDA Census of Agriculture is worth checking out!
It's in a large swing state. We want our votes to have an impact, unlike they had in Utah.
Nevertheless, COVID vaccination rates were decently high at a very early point in the pandemic.
They continue to invest in high density housing projects. Of course we need more, but it's a strong start.
Traverse City has some like-minded folks. I'm especially pleased with Traverse City's Groundwork Center for Resilient Communities. My next step is to get more involved in local organizations.
Lastly, it's delightful! Seriously, just look at Google Images for Traverse City!
If we had to pick somewhere besides Traverse City, Burlington, Vermont was an extremely strong candidate. Ithaca, New York was also really strong, with the exception of the ridiculously huge property tax rate that would have cost more than the mortgage payments.
Anyway, Traverse City is no Cleveland but it's great here! Come join us! We keep meeting people who moved here recently under very similar circumstances.
Part 10: A personal update
Unspeakable, indescribable thanks to Claire Olio for our lives together and for doing this crazy thing with me.